Posted on October 7th, 2013 by mking in
Blog
This Post has
Comments Off

on Police Searches and You
The 4th Amendment prohibits unreasonable searches & seizures and requires any warrant to be judicially supported by probable cause. The question is, what is unreasonable? A group of teenage boys were standing in a friend's driveway when they were approached by a police officer. The officer asked if he could...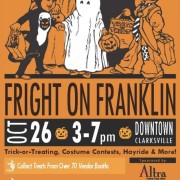 Posted on September 16th, 2013 by cwilkerson in
Blog
This Post has
Comments Off

on Fright on Franklin
The Law Office of Kimberly Turner is happy to announce that we will be participating in the 5th Annual Fright on Franklin. Activities will begin at 3:00 pm on Saturday October 26, 2013. The attorneys and support staff will be located in front of our office at 130 Franklin...